Texas Population Estimates Program
The Texas Population Estimates Program produces annual estimates of the total populations of counties and places in the state. Estimates of county populations are also available by age, sex, and race/ethnicity. Finalized population estimates are published on our TDC website the first week of November every year.
2022 Population Estimates
Final population estimates for counties and places in Texas, and the county population by age, sex, and race/ethnicity are now available for July 1, 2022 and January 1, 2023.
If you have downloaded the preliminary estimates, please note that we have made changes to our final estimates based on the feedback and new information we have received since the release of the preliminary estimates. The final estimates may be accessed from the files below.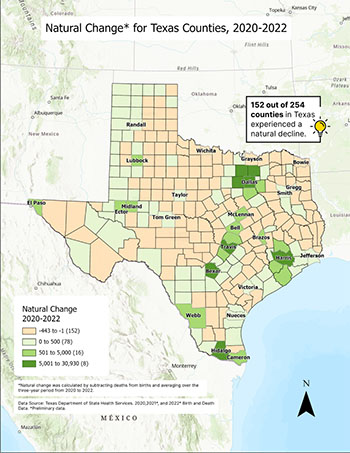 Infographic
Natural change for Texas counties, 2020-2022
Natural change in Texas, like many other regions, plays a vital role in shaping its demographic landscape. The Texas Demographic Center has produced a map illustrating shifts in the state's population resulting from natural change.
Access 2022 Population Estimates
Texas Population Estimates Annual Surveys
The Texas Demographic Center's Texas Population Estimates and Projections Program, overseen by the State Demographer, conducts surveys to create population estimates for the State of Texas in compliance with Chapter 468 of the Texas Government Code. These estimates are crucial for a wide range of users, including state agencies, policymakers, local governments, and private enterprises, to effectively plan and meet the needs of Texans. The accuracy and availability of these population estimates depend on the cooperation of the survey respondents.
Information from Texas counties, cities, and educational institutions is collected through five annual surveys from October to February.
Higher Education Survey - collects enrollment totals and the number of students living on campus from higher education institutions.
Private School Survey -collects enrollment totals for students in grades 1-8.
Annexation & Boundary Survey - collects information related to boundary changes that may affect the population from incorporated places.
New Residential Units Surveys (Incorporated Places/Unincorporated Areas) - collect information from cities and counties concerning new residential housing units in the incorporated places and unincorporated areas.